Interior Trends Forecast for 2018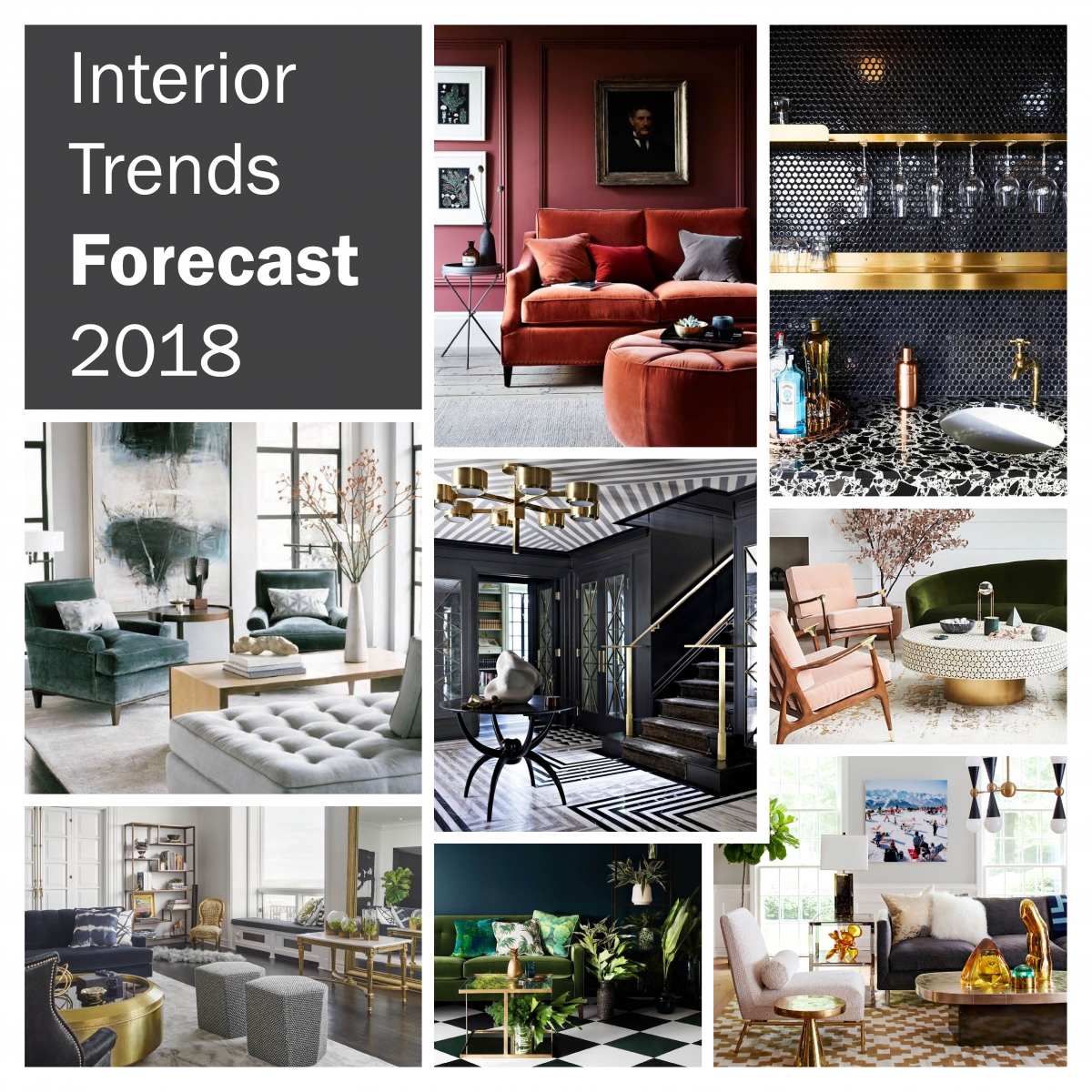 Photo Sources (Clockwise From Top Left):  1, 2, 3, 4, 5, 6, 7, 8
With a New Year upon us, it's hard not to get into the spirit of re-inventing yourself, or in this case, your home! Last year was a great example of trying new things and experimenting with color, texture, and different aesthetics. We're predicting 2018 to have some similarities to 2017, but with a bold twist. Read on to see what we're predicting to be "on trend" this year when it comes to your interiors.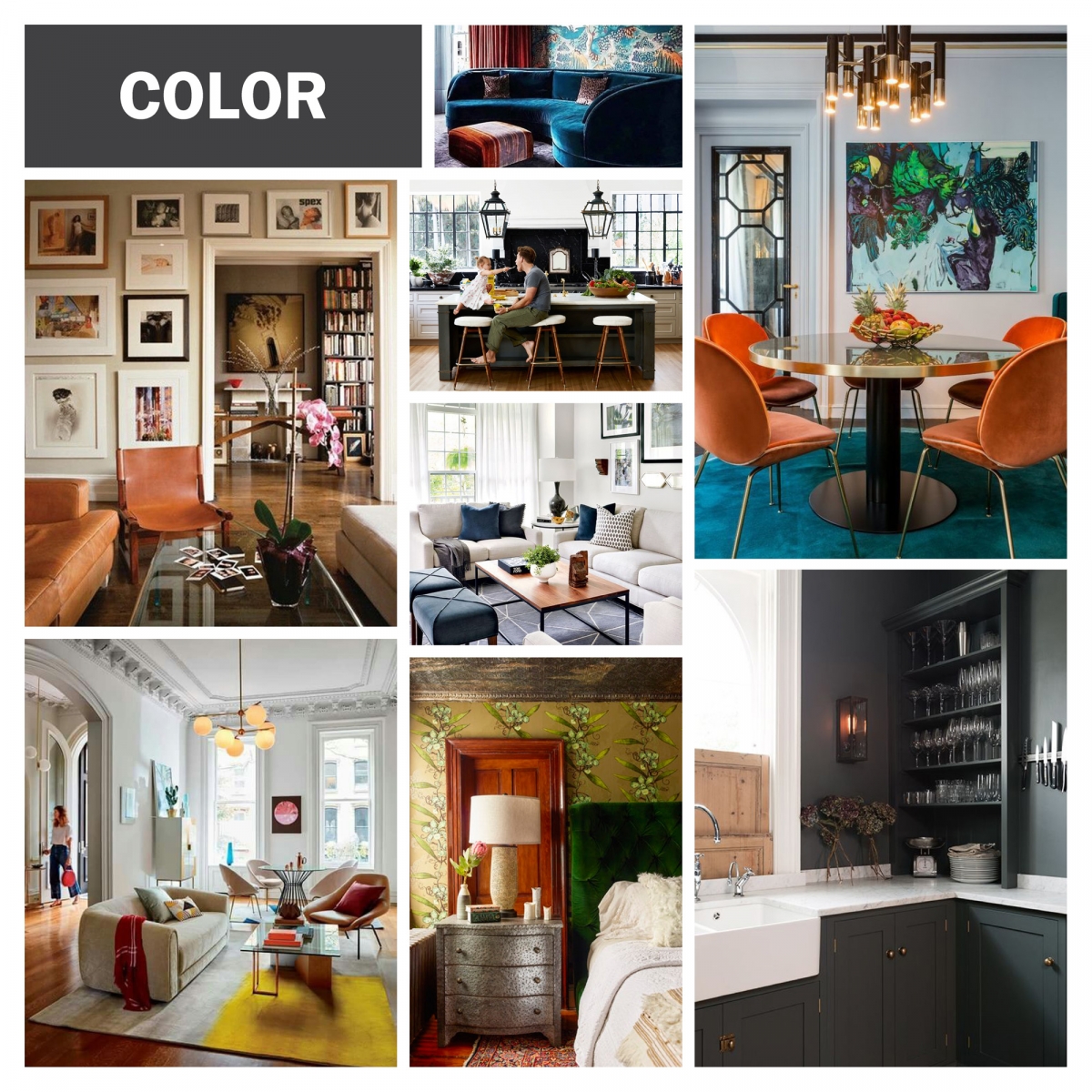 Photo Sources (Clockwise From Top Left): 1, 2, 3, 4, 5, 6, 7, 8
A monochrome or neutral palette will always be a classic in our book, but we suspect that homeowners are looking forward to infusing more color into their spaces this year. From dramatically dark kitchens to unexpectedly colorful upholstery, there will be a lot of ways to incorporate color in no matter what room you're decorating. We suspect that jewel tones will still be immensely popular just like in 2017, in addition to earth tones; one of our interior designers even said that green is on its way to becoming the new navy! Keep an eye out for rich burgundy tones, emerald, plum, rust and mustard colored hues because they are classic colors that are easy to integrate into your home. If you really want to get on the greenery trend, add a little life to your room by incorporating plants. It's an easy way to fill lackluster corners, add depth to your room and make a cleaner space for you visually (and physically!)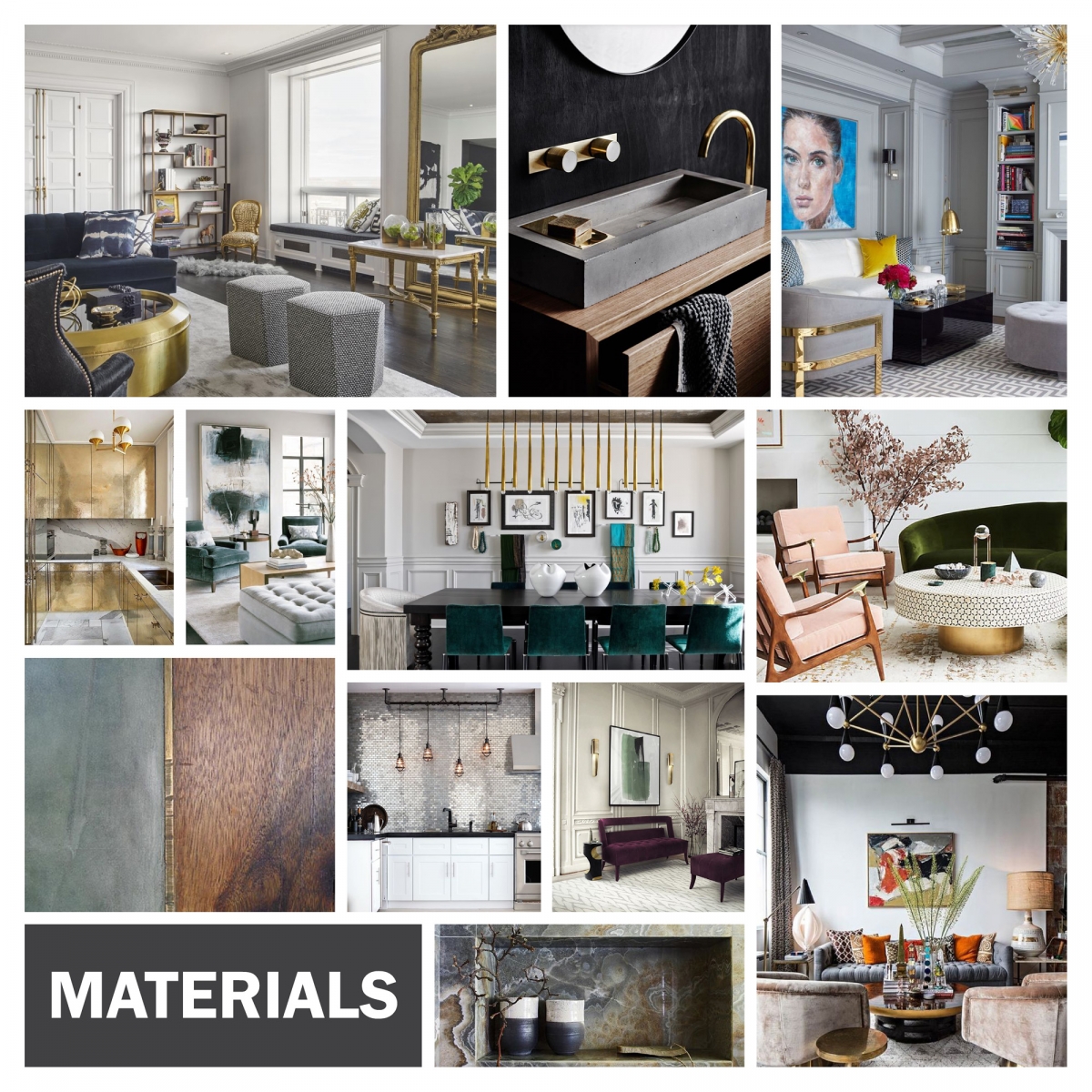 Photo Sources (Clockwise From Top Left): 1, 2, 3, 4, 5, 6, 7, 8, 9, 10, 11, 12
We're thinking that 2018 will be the year of mixing and matching. From black and brass finishes, to fringe and leather, there is no stopping the combinations of materials for a more authentic and lived-in look. If you haven't noticed already, velvet has become the new go-to fabric. Velvet makes any piece of furniture look classic & cozy, and if you pick a bold color to accompany it, it's sure to be a statement piece. Mixing your materials/ finishes is less thematic and more of a timeless approach to make sure your space never feels dated.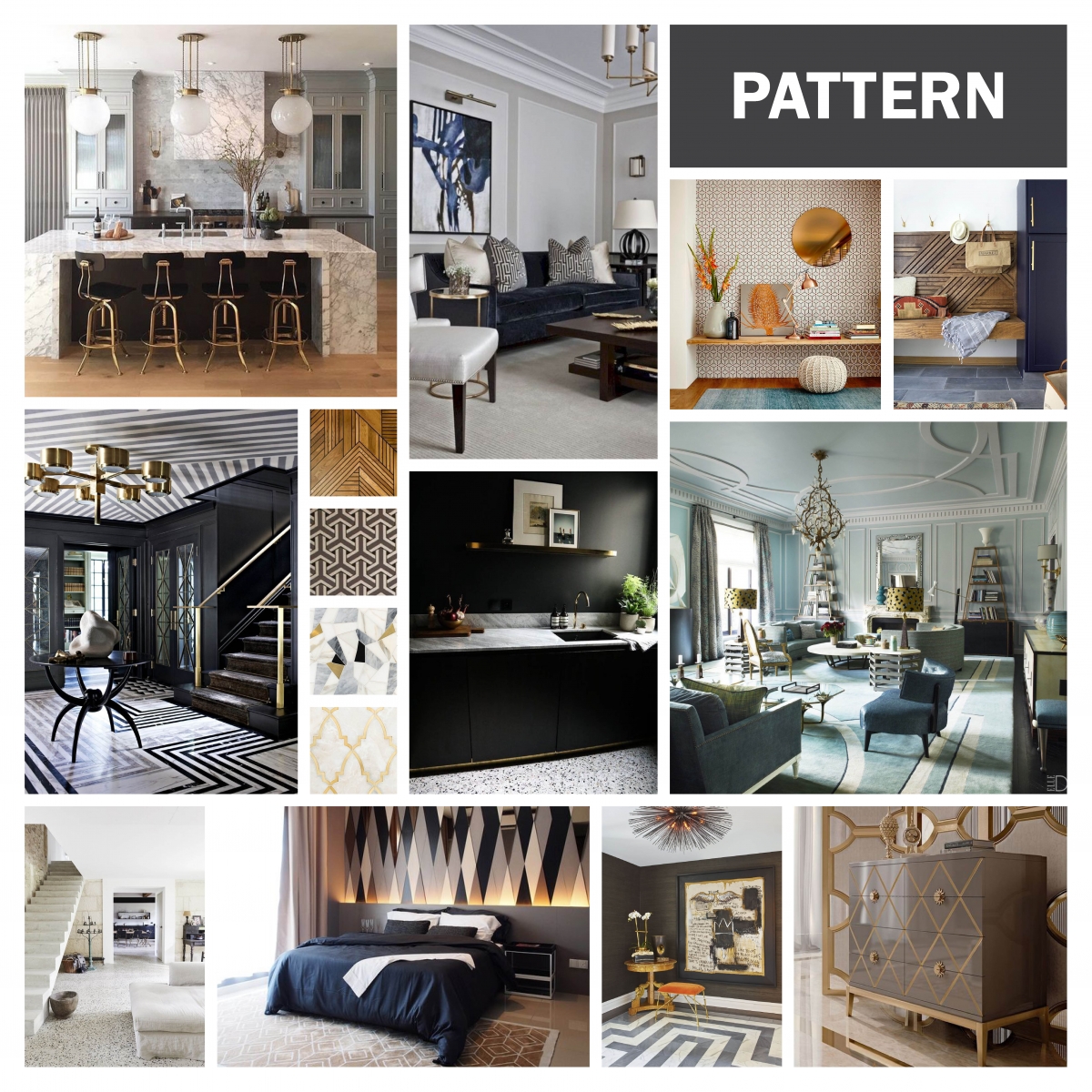 Photo Sources (Clockwise From Top Left): 1, 2, 3, 4, 5, 6, 7, 8, 9, 10, 11, 12, 13, 14, 15
While we're on the topic of mixing and matching, we've also noticed that it's translated into what sort of patterns we are picking for our materials. Terrazzo is one of the new comeback materials and patterns of 2018 and you'll be sure to see it used as a backsplash in the kitchen or even in the bathroom. It's a subtle yet striking piece that gives boost of color in a non-overwhelming manner—perfect for smaller spaces! We've also noticed that geometric patterns and mosaics are gaining popularity and are a perfect solution for dull entryways or even powder rooms.
For 2018, we are sensing that designers are digging up designs from the past, but modernizing them for a fresh yet refined look.  Art Deco is slowly creeping its way back into popularity and we have to say, we are loving how it looks. It's a very elegant way to spice up a room and give it a timeless quality. Whether it's an Art Deco-inspired light fixture or even a brass end table, we love how it pairs with more modern interiors. (Remember how we said mixing and matching is going to be key this year?)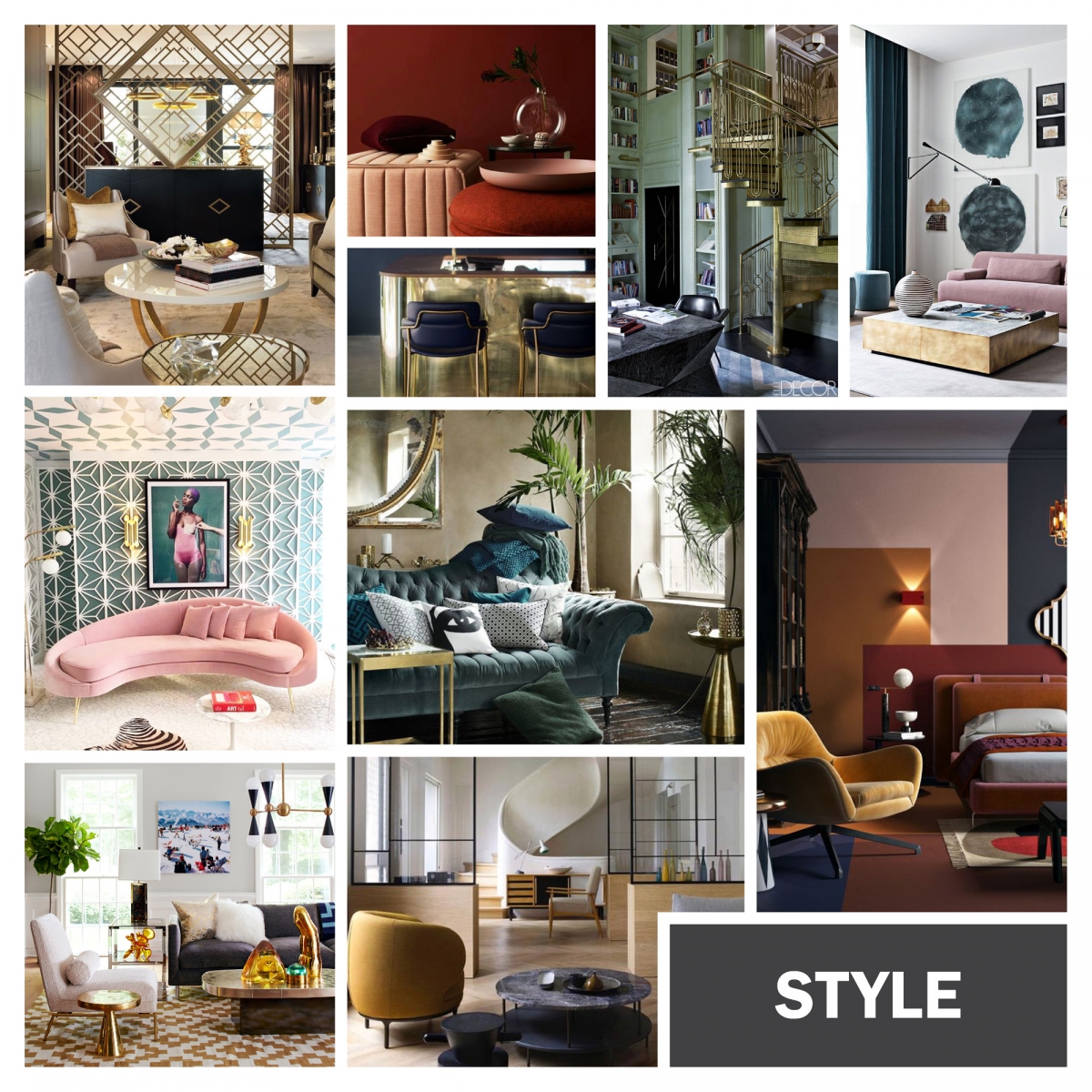 Photo Sources (Clockwise From Top Left): 1, 2, 3, 4, 5, 6, 7, 8, 9 ,10
So, we've talked about Art Deco and how it's a blast from the past, but we aren't quite done revisiting some old favorites from a few decades ago. Think 70s: Bold furniture, playful colors and truly unique spaces. Although some of the interiors back then were a little too lively for some people's taste, we found a couple of trends that are popping up again. We love that unusual shapes are being re-introduced into interior design! Adding a curved chair or couch can be the perfect way to introduce shape and personality into your space, whether you're into midcentury or contemporary furnishings. We also think layering will be crucial, and this translates across all of our categories. The best way to make a dynamic, full, personal space is to layer it with items.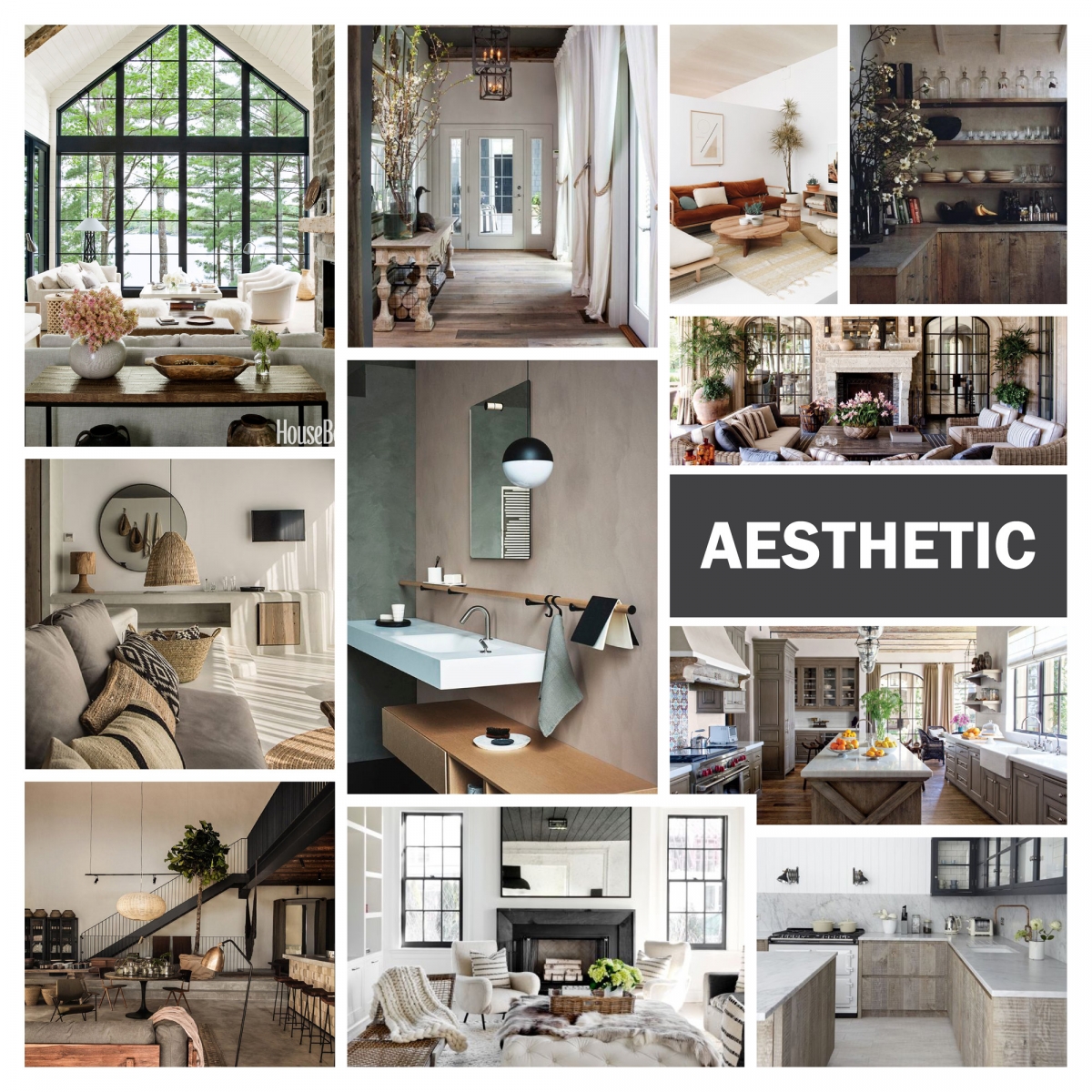 Photo Sources (Clockwise From Top Left): 1, 2, 3, 4, 5, 6, 7, 8, 9 ,10, 11
"Hygge" was a big conversation starter in 2017. If you're not familiar will the phrase, hygge (pronounced "hoo-guh") it is a Danish term that is centered around making your home as cozy and comfortable as possible to maximize your contentment with your surroundings. While we still think Scandinavian style and mentalities are prominent, there is a new design philosophy that we really like the sound of: "Wabi Sabi". Wabi Sabi is a Japanese phrase that speaks to balance and imperfection; it's all about authenticity and simplicity. We're suspecting that along with this new injection of personality in interior design, the result will feel more authentic and real. No more faux industrial pieces, but higher-quality furniture that is made to last and blend with its space. The mentality, more than anything, is about how a person feels in their space as opposed to what they are surrounded by.
What 2018 trend are you looking to incoporate into your home this year? We would love to hear! Our interiors team is excited for the new year and is always ready for all of your project needs. If you have an upcoming project or any design questions, always feel free to email our staff at info@lda-architects.com!