LDa takes Milan!
Back in June 2022, Ashleigh Sanicola and Jennifer Baker, two of LDa's Associate Interior Designers, attended the Salone del Mobile in Milan, Italy—an annual exhibit showcasing the best in Italian furnishings and accessories.  We caught up with Ashleigh and Jenn to hear about their experience, check out their photos, and uncover their main takeaways from the Salone del Mobile.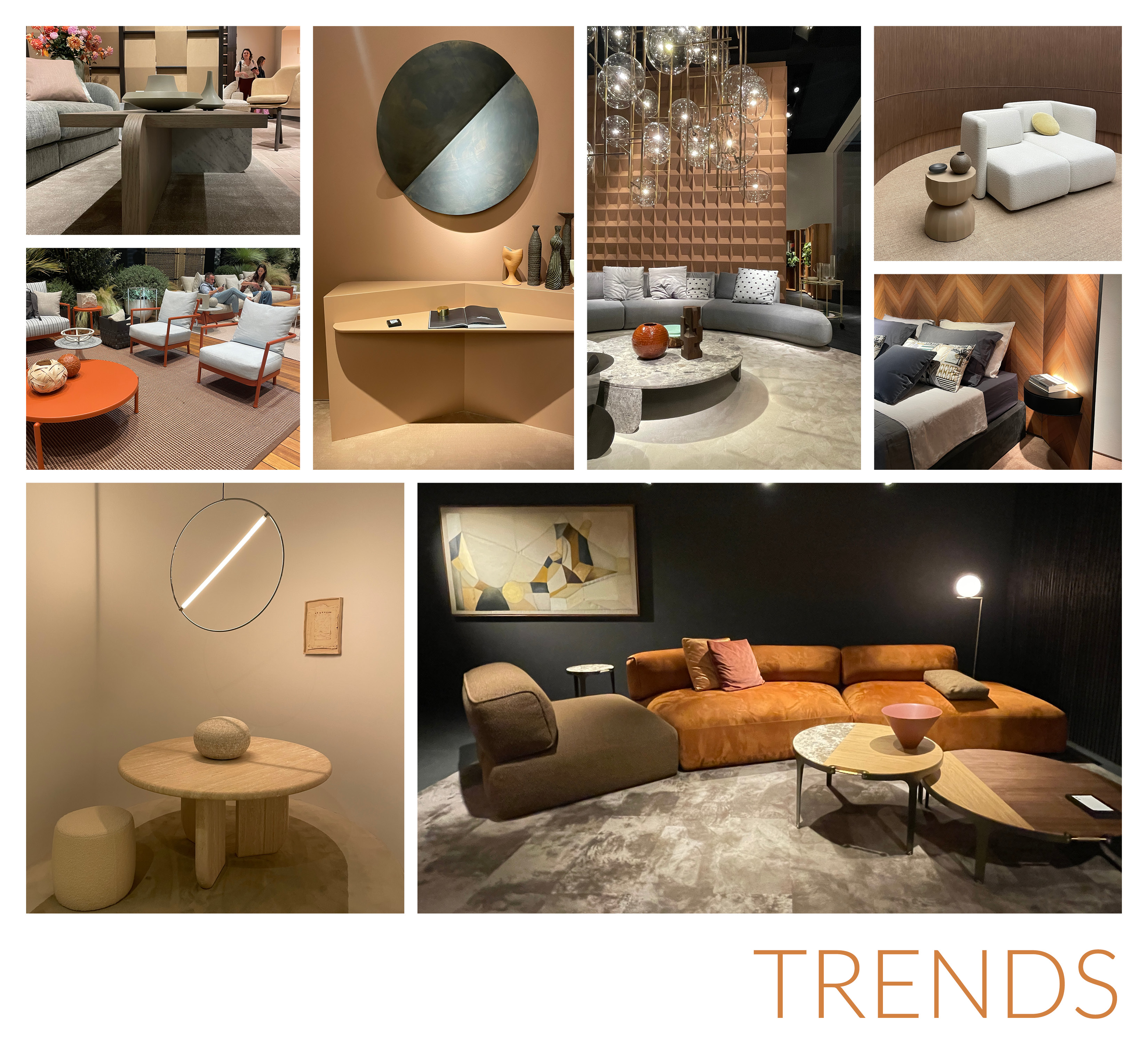 LDa Marketing: What were some of the biggest trends you noticed at the exhibition? 
 
Ashleigh: Warm tones of rust, gold, cream, and terra cotta, echoing the European landscape, stood out as the major color trends. We even found deep saturations of violet and indigo creating accents throughout the vignettes. We barely saw any neutral gray. 
Jenn: There was a clear nod to 'mod' styles, evoking a '60s and '70s vibe, something ever-present in European design. Pieces feel soft and sinuous, with rounded shapes present in sofas, casegoods, and tables. We saw a lot of heavy texture in materials–boucle, tweed, slub linen–and ribbed details in both furniture and architectural elements. The overall tone felt elevated yet relaxed, inviting you to settle in and enjoy.  
 
Ashleigh: Stone was the main event! Innovative exploration of stone use was apparent throughout the Salone. We saw bold color and patterns, stone front cabinet drawers and doors, and integrated kitchen design with stone veneer dishwasher fronts blended seamlessly with neighboring stone cabinet fronts. Travertine and Marble were the front runners, with a full circle moment of color stories combined in the unique stone patterns throughout. 
 
Jenn: A standard of Italian design is the incredible attention to detail. Every piece is handmade by skilled craftspeople, whose trade has been passed down for generations. The joinery of a curved arm on a chair, the stitching on a leather sideboard, a stunning book matched piece of stone–you can see the thought and pride that goes into every detail. The end result is furniture that feels like a piece of art, something to be truly appreciated.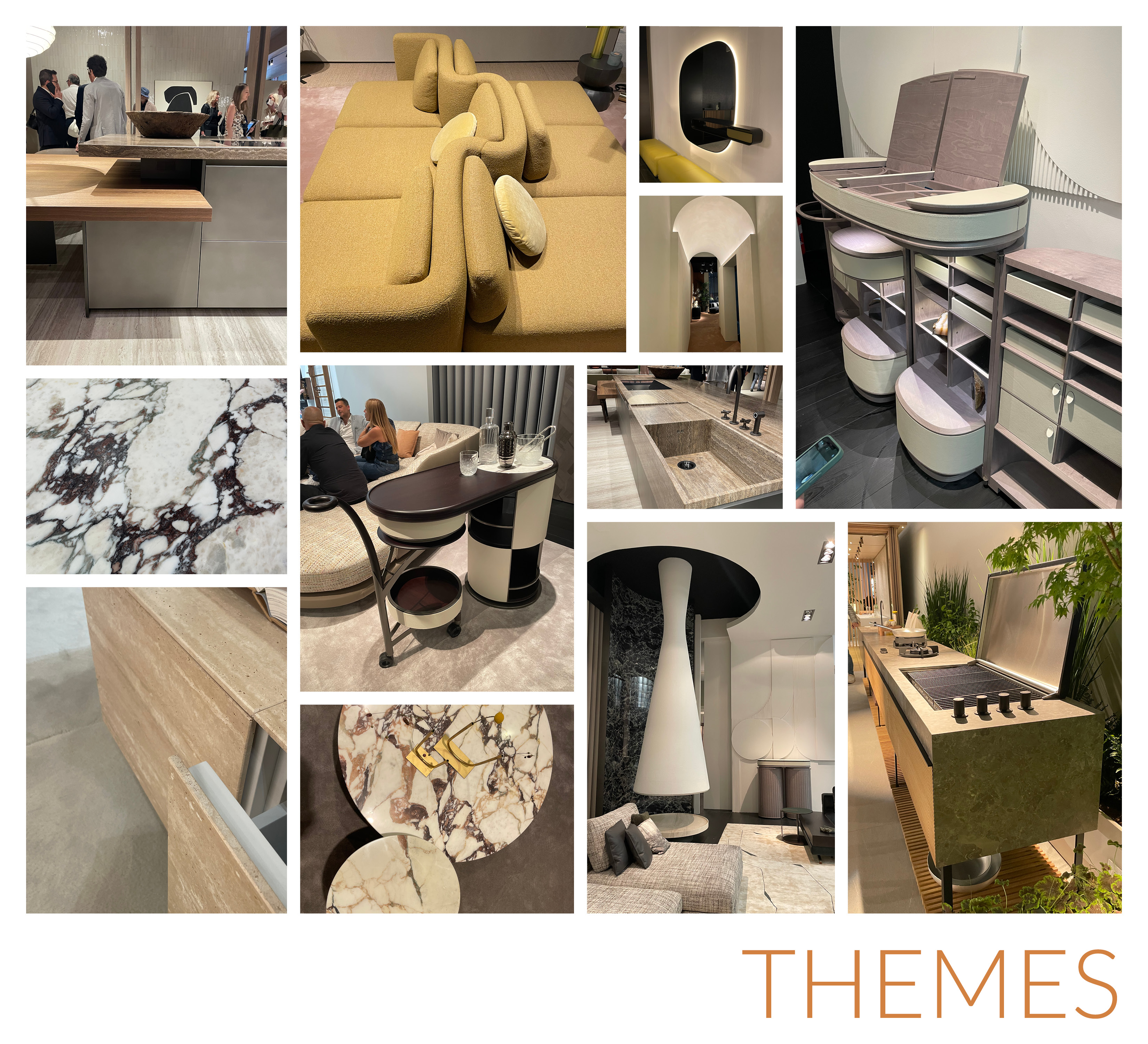 LDa Marketing: Were there any products or themes that you found particularly interesting?  
 
Ashleigh: After touring the showroom, we were invited to look at the details that set the designer Giorgetti apart. Our guide was discussing their keen attention to not only creating elegant and intricate details, but also minimizing waste, where possible. For example, the wood foot on the sofa was repurposed material from another piece; an added knob detail was a piece that otherwise would have been discarded; the veneered wood pattern was recycled sheets of wood created into a new pattern for a cabinet face. Giorgetti is actively looking for opportunities for sustainability while using the parts and pieces of their manufacturing process to minimize waste.  
 
Jenn: It was very clear that no opportunity is missed when it comes to storage and function. Pieces are not only beautiful but also thoughtfully created to respond to the user's every need. For example, a game table has hidden corner drawers that double as a spot to set your drink. Closet systems have compartments custom sized for every accessory you could imagine. A bar has integrated cutting boards and a spot for every tool.  
 
Ashleigh: We also noticed many secondary uses for interior décor. Specifically, we came across suspended light fixtures, bar carts, consoles, and large bookcases being used as room dividers. Segmenting the rooms with partially transparent items allowed for spaces to be defined better while maintaining the open concept feel.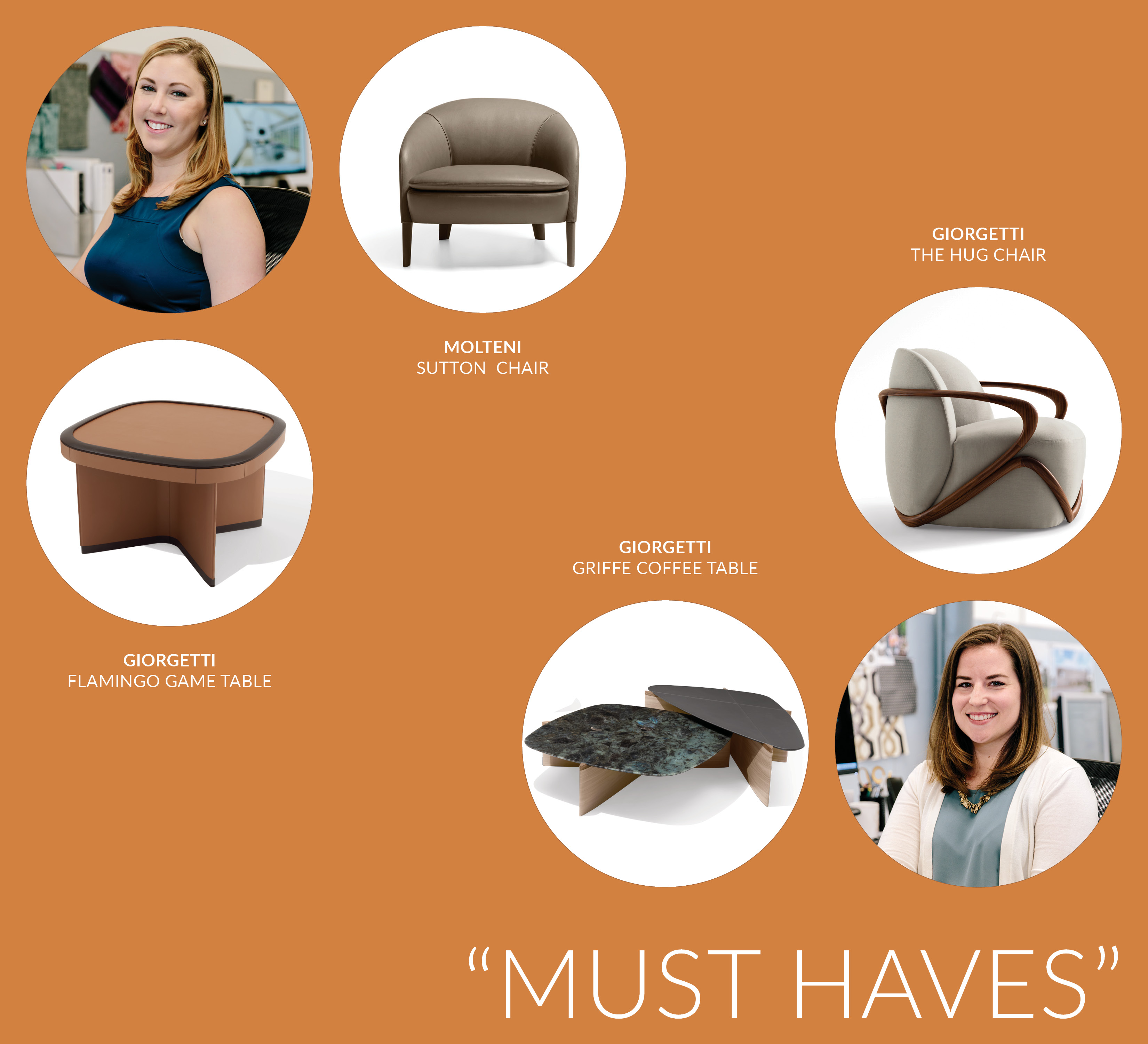 LDa Marketing: If you could have any one piece you saw in your own home, what would it be? 
 
Ashleigh: Hands down, the Molteni "Sutton" armchair in the most delectable buttery soft leather. Runner up is Giorgetti's "Flamingo" game table.  
 
Jenn: Giorgetti anything. The Hug chair, the Lia chest, the Griffe coffee table–all truly unique, heirloom quality pieces with stunning details.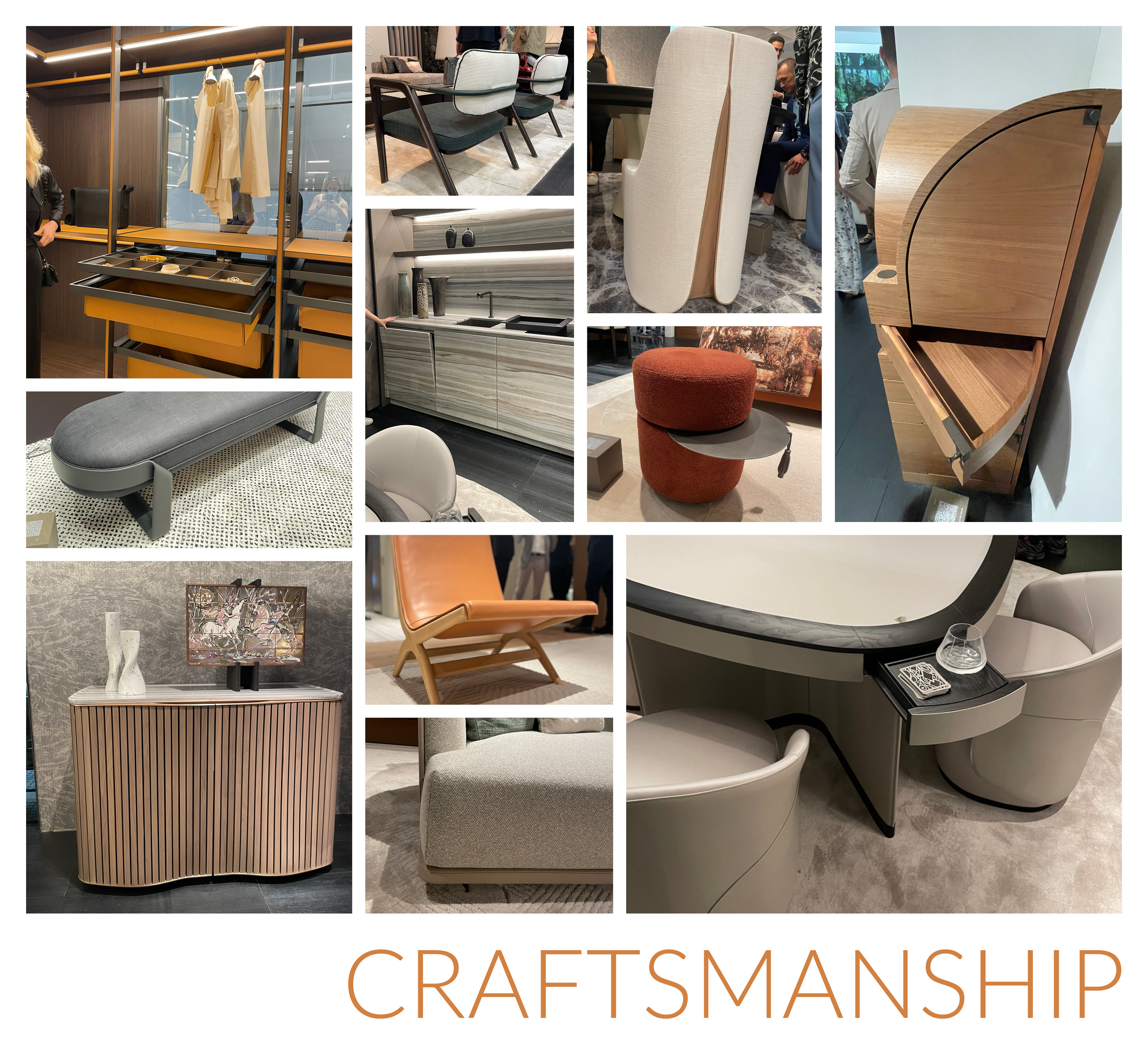 LDa Marketing: Was there anything you were surprised to see, or to not see, at the exhibition? 
Jenn: I was struck by the hospitality, desire to share, and comradery found in everyone there to revel in their love of design. Again, the understanding that these designers take such pride in their work and the artistry of the furniture–it's not the disposable 'fast fashion' approach we're used to here.  
 
Ashleigh: My takeaway was that this was art on display. People spend their entire lives becoming craftspeople to create this level of detail. These are exquisite pieces that should be cherished and are highly valued in Europe. I was also surprised to see the amount of time, energy, and creativity that goes into each manufacturer's booth. They are beautifully curated, thoughtful, and inspiring. I found myself taking note in styling choices, color combinations, and textured details.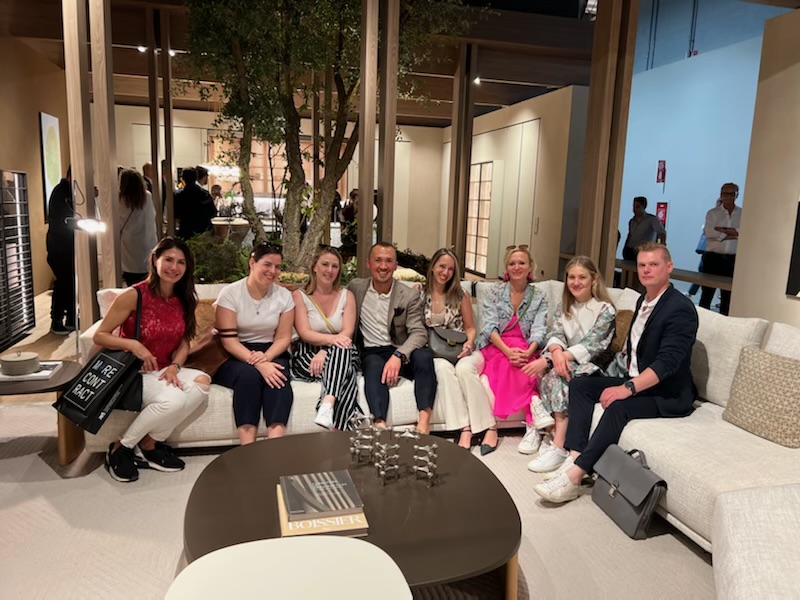 Special thanks to the team at Casa Design for inviting Ashleigh and Jenn to attend this year's Salone del Mobile!